Our Legacy as a Premier Vape Juice Manufacturer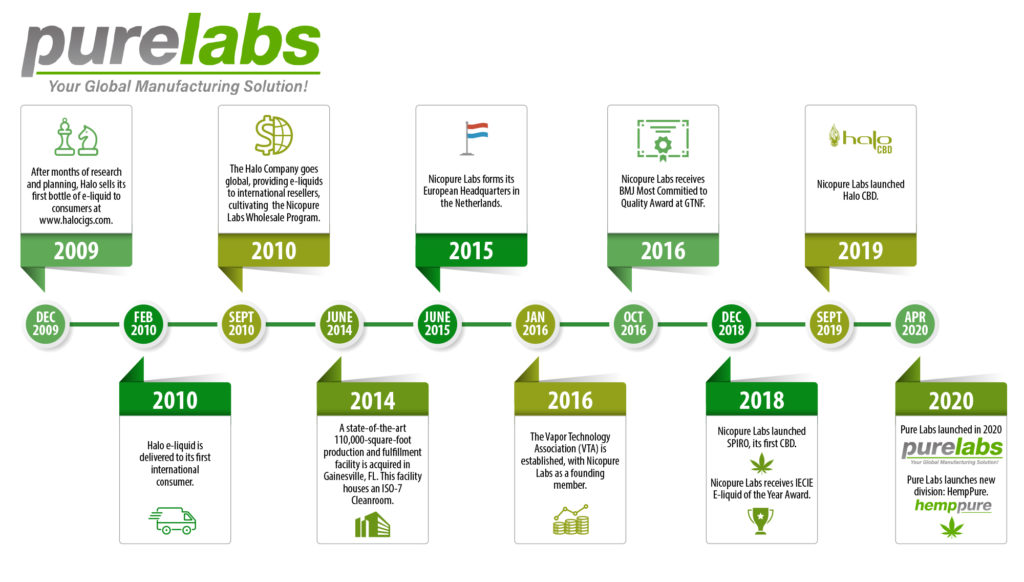 December 31, 2009
After many months of research and planning, Halo sells its first bottle of e-liquid to consumers at www.halocigs.com.
February 2010
Halo e-liquid is delivered to its first international consumer.
September 2010
The Halo Company goes global, providing e-liquids to international resellers, giving
birth to what is now the Nicopure Labs Wholesale Program.
December 2010
The Halo Company launches its first line of hardware, a three piece pen-style device
called the Element.
June 2011
The Halo Company launches its first two-piece hardware system, G6, for vapers who prefer a cigarette-like e-liquid experience.
March 2013
The Halo Company launches the eVo e-liquid line under its sister company, Nicopure Labs, LLC.
April 2013
The Halo Company enters the open-tank arena with the release of the Triton Tank System.
June 2014
A state-of-the-art 110,000-square-foot production and fulfillment facility is acquired in Gainesville, FL.
August 2014
The Halo Company merges with Nicopure Labs, LLC, uniting the Halo and eVo brands.
September 1, 2014
Nicopure Labs establishes its corporate headquarters in Trinity, FL.
September 2014
Nicopure Labs releases its award-winning Halo blends under the Purity brand in the United Kingdom.
June 2015
Nicopure Labs forms its European Headquarters in the Netherlands.
October 2015
Nicopure Labs launches its high VG line of Halo flavors.
November 2015
The Reactor and Tracer are born when Nicopure Labs launches its sub-ohm hardware lines.
December 2015
Nicopure Labs LTD is formed in the United Kingdom.
January 2016
The Vapor Technology Association (VTA) is established, with Nicopure Labs as a founding member.
September 2016
Nicopure Labs wins the Golden Leaf Award for BMJ Most Committed to Quality.
June 2018
Nicopure Labs launches SPIRO, it's first CBD product line.
September 2019
Nicopure Labs launches Halo CBD
March 2020
Pure Labs launches as a one-stop Global Manufacturing Solution